Dental Implants – The Natural Tooth Replacement Solution
What is a dental implant?
Dental implants help to support replacement teeth that look, feel and function like your natural teeth. They have many benefits including helping to maintain facial structures and bone tissue in the jaw, without needing to grind down healthy adjacent teeth to accommodate traditional crown and bridge procedures, plus there is no need to wear removable dentures and fiddle with denture adhesives.
There are many different implant systems available and they deliver a highly reliable treatment for missing or diseased teeth in reputable hands.
Introducing our Implant Dentist
Dr Mark Robotham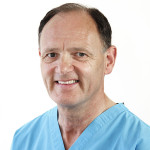 BDS (U.London 1978), MSc Implant Dentistry (U.Warwick) 2006
Mark has been involved with treating patients with dental implants since 1993 and has been offering surgical placement and bone grafting since 1997. Mark has now placed nearly 3000 implants, with an average of 2 implants per patient and his implant survival rate is above 97%. Currently most of his clinical time is spent with patients requiring dental implants. Mark completed his MSc in Implant Dentistry at Warwick University in 2006.
He has been a member of the Association of Dental Implantology (UK) since 1993 and the European Association of Osseointegration since 1994. He is involved in mentoring and coaching other practitioners. He is also currently involved with the Astra Tech clinical coaching programme and has ongoing experience with 4 different implant systems. At Kensington Court Clinic, Mark is available for the assessment and treatment of patients with dental implants. Patients may include those referred by their own general dental practitioners and those who arrange appointments independently.
How will I know if I am suitable for implants?
Are you missing one or more teeth? Do you have difficulty eating certain foods or speaking clearly due to tooth loss? Do you suffer from the discomfort of badly fitting dentures? If so, then dental implants may be the solution for you.
An initial consultation with Dr Mark Robotham will assess the feasibility of providing implant treatment. Establishing good basic dental health is a key stage in any treatment plan. At this first appointment you will be advised of which problems are urgent and what treatment is required to stabilise any gum or tooth related problems. Make an appointment.
What happens during a Consultation
A complete examination of your mouth and remaining teeth will be undertaken to establish the nature and extent of any current dental problems. X-rays will be taken and models of your teeth will be prepared. These x-rays and models will be used to determine the optimal position for an implant, how many implants can be placed in the gap and the quality and volume of bone that is available. You will also need to answer detailed questions about your medical history. From here, a written treatment plan will be prepared for you to consider and if you require any further assistance to help you undergo treatment we are ready to help.
An overview of the implant process
Implant treatment normally involves several stages that take place over a period of time from three to nine months. Although it can vary, a typical process often includes
Assessment and treatment planning
Implant placement
Integration period
Restorative phase
Maintenance
Tooth Replacement Types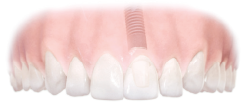 Single tooth – If you need to replace a missing tooth that could be a result of an accident, tooth degeneration or was missing from birth.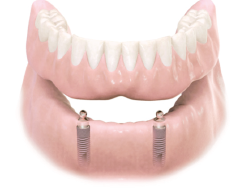 Several teeth – If you have lost several teeth there are two solutions: separate crowns on dental implants or a bridge attached to several dental implants.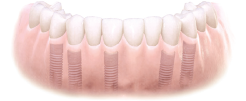 All teeth with a removable prosthesis – If you have lost all your teeth in one of both jaws a solution could be a removable prosthesis that is connected to two or more dental implants.
Time-tested results
Dental implants have been used successfully in millions of people worldwide for over 50 years. The implants we use are backed by extensive clinical and scientific documentation. This allows shorter healing times, less time in the dentists' chair and the confidence of predictable long-term natural-looking results.
Sedation and General Anaesthetic options
If the implant surgery is going to take a long time or if you are particularly nervous, we can assess your suitability for treatment using a range of dental anaesthetics, including relative analgesia, oral sedation, conscious sedation and general anaesthesia. Each of these options can be explained during your consultation to help you feel comfortable in undergoing a treatment plan.
Further information
If you would like to book an appointment or have any general enquiries regarding dental implants please get in touch. Any individual clinical or medical advice can only be outlined following a visit for an initial consultation with our Implant Dentist, Dr Mark Robotham, a member of the Association of Dental Implantology.