Dentistry & More…
Discover a professional and relaxing haven at our Eveswell Suite. Situated on Floor 2 you will find a welcoming reception area and individual consulting rooms fitted with the latest equipment in dental technology. Your consultation time will be geared to understanding your dental concerns and will allow us to prepare a treatment plan to suit your needs and budget.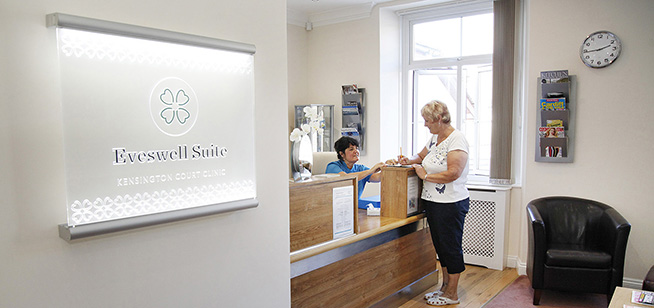 Healthy smiles begin here
Good general oral health begins with regular brushing and maintenance of the teeth and gums. We recommend regular check-up appointments to monitor any changes or deterioration in general dental health so we can act quickly to keep you mouth and gums in top condition.
Bad dental hygiene could increase the risk of serious health problems, according to the UK's leading oral health charity, the British Dental Health Foundation. Gum disease has been linked to the potential risk of heart disease, diabetes, strokes, premature births, low birth-weight babies and even infertility.
At Kensington we have created a clinic covering many aspects of modern dentistry and with our team-based approach, we can refer in-house to work with someone who has specialised knowledge and practical expertise without needing NHS referral and long hospital waiting lists.
Cosmetic Dentistry Find out more about Kensington Court's Cosmetic Dentistry services here
Sedation Dentistry Uniquely at our Kensington Suite Hospital Services you can undergo routine, emergency or more complex dental treatments whilst sedated or sleeping – a real solution for nervous, phobic, or challenging behaviour patients who may not be able to access treatment otherwise.
Register Now Come and join us! We already welcome a wide range of patients from young families and adults groups for preventative routine dental care and are currently registering new private patients.